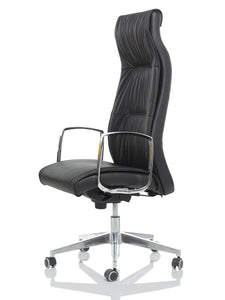 Chairs for the contract market.
All chairs are assembled, finished and quality checked in our warehouse in Drogheda Co. Louth. We deliver all chairs. 
This chair is available in black leather. / Advanced height adjustment system. 
5 Year Warranty.
RRP = €799.00 plus vat. 
Our contract price = €479 plus vat. (plus choice of arms)
Arms Ring: €19.00
Arms 2D: €29.00
Arms 3D: €49.00
Arms Chrome: €89.00
London Executive Chair.
• 5 Year Manufacturer's Warranty
• Fireproof foam and fabrics to 1IM
(Cat 3) conforming to Irl/UK specific
fire regulations
• Conforms to all EU Standards
& Regulations
• All fabric and vinyl colours ex factory
at no extra cost
• Made in Italy
• Available to try . . . just ask