All Products Delivered free to account holders - products listed are plus vat @ 23 % extra - unless otherwise stated to be vat inclusive - a detailed vat invoice will be provided.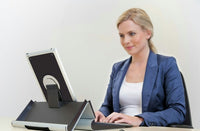 How Ergonomic products increase efficiency. .....
An ergonomic workplace facilitates the comfort and productivity of VDU users. All it takes is a few changes to create the ideal workplace. Major research has shown that using effective ergonomic solutions improves well-being but also improves staff productivity by 17%. We can provide you with all the relevant research publications and whitepapers that prove these facts.